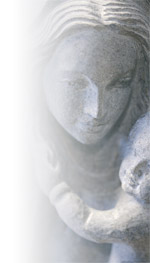 Memorials
We are proud to present our most comprehensive brochure of memorials in both granite and stone.
Because of its enduring properties, granite retains its beauty with minimal weathering or deterioration and the very high polish is suitable for both sandblast and hand etched ornamentation.
Granite, as with all natural materials varies slightly in colour, shade and grain structure from piece to piece, making it truly unique to you. We also offer a beautiful collection of more traditional stone and marble memorials.
Within this catalogue you will find a whole range of memorials. It is important to remember that any shape or design can be manufactured in any material and that all ornaments and designs are interchangeable.



We are happy to advise you with your choice of memorial and inscription. As memorial masons, we have access to a large team of designers and artists who can design any memorial not shown within this brochure. Layouts and proofs of inscriptions will always be available.
Size
Unless otherwise indicated, the dimensions of each memorial are as follows
Standard - 2' 6" High x 2' 0" Wide x 1' 0" Deep x 3" Thick
Large - 2' 10" High x 2' 6" Wide x 1' 0" Deep x 4" Thick
All cemeteries and churchyards have their own regulations regarding size of memorials, but the standard and large sizes are appropriate for most sites.
Hearts and Books not allowed in churchyards, rubbed or honed finish only.
Material
Granite - Granite comes in several colours as indicated on our website. This is the most durable of the materials. An all polished granite memorial will hold its polish, looking untarnished indefinitely, giving a maintenance free memorial. A part polished granite memorial with polished face and top of base will remain either sawn or rustic is the next best, with the unpolished areas needing attention. Granite in most churchyards is only permitted in Light grey and with an eggshell finish, but there are some exceptions.
Marble - This comes in either white or dove grey. Marble is very clean and fresh when new, but does need a certain amount of maintenance to keep it looking as new. As marble is porous it can be stained, so it is not recommended if the grave is situated under a tree.
Stone - Purbeck stone is the local stone, although others are available. This is encouraged for use in most churchyards. Like marble, it looks attractive when new but being Limestone, it weathers quickly, so is only advised if it can be maintained.
Inscriptions on Memorials
All inscriptions are charged by the letter. Any style can be achieved; there are some examples on our website. The type of letter suitable varies according to the material.
Our recommendations are as follows:
Granite - Carved and painted
Granite - Carved and Gilded
Granite - Raised lead
Marble - Carved and Painted
Marble - Inlaid Lead
Stone - Carved only or and painted